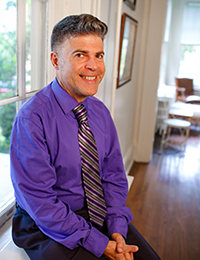 Dr. Gordon Marsh
Professor
Department: Fine Arts
Office: 358 Olin Hall
540-375-2352

marsh@roanoke.edu

Courses
Bio
Gordon Marsh received his B.M. in piano from the Eastman School of Music, his M.F.A. in composition from the University of California at Irvine, and his Ph.D. in composition from the University of Chicago.
Originally from southern California, Dr. Marsh studied piano with Lucille Straub and composition with the late Roy Harris. In 1976, he was a recipient of the Los Angeles Young Artists Foundation Scholarship, and was a finalist for the Debut Award. While at Eastman, he received both the José Echaniz Prize and Ethel Lannin Prize for his performances, studying with Frank Glazer and Cécile Staub Genhart.
At Chicago, his composition teachers included John Eaton, Shulamit Ran and Ralph Shapey. His dissertation, "Sonata in Four Movements for Violin and Piano," was nominated for the Galler Prize, which is awarded to the most distinguished dissertation in the humanities. Over the years, Dr. Marsh has performed as recitalist, chamber pianist, concerto soloist, and conductor, and has won numerous awards for his compositions, including a 1989 nomination for the American Academy and Institute of Arts and Letters Award, and has presented papers at regional, national and international venues.
In 1996, Dr. Marsh joined the faculty of the Fine Arts Department at Roanoke College, where he teaches courses in theory, composition, history, world music, and the humanities. Awarded a sabbatical for 2003-2004, Dr. Marsh spent eleven months at the Cité Internationale des Arts in Paris, an arts residency, during which time he completed over a dozen professional training workshops in computer music at IRCAM, France's national research center for the coordination of music and acoustic science. He returned for a second summer residency in 2007. In 2005, Dr. Marsh offered Roanoke College's first course in computer music, and subsequently taught two Intensive Learning (May term) courses. Installations of his sound art have been exhibited in France, Germany, and the United States.
Dr. Marsh is a member of ASCAP, the College Music Society, and the Society for Music Theory. A member of the College Music Society, his music has twice been selected for the Mid-Atlantic regional conference. His article, "Shapey at the Piano: Evolution of a Style" appeared in the Winter 2015 issue of American Music, and his "Schnittke's Polystylistic Schemata: Textural Progression in the Concerti Grossi" appears in Schnittke Studies (Ashgate Publishing, 2017).
Dr. Marsh's current research agenda focuses on the application of performance studies to the phenomenological analysis of Chopin, Schumann, and Fauré. His latest compositions explore harmonic implications in non-diatonic scales formed from seven-, eight-, and nine-note collections. This harmonic language produces what he describes as a warped contrapuntal geometry.
Available as a Media resource for the following topics
Popular music
Classical music
World music
Willing to speak to professional, social or civic groups on
Arts education (music, visual art, theatre, etc.)