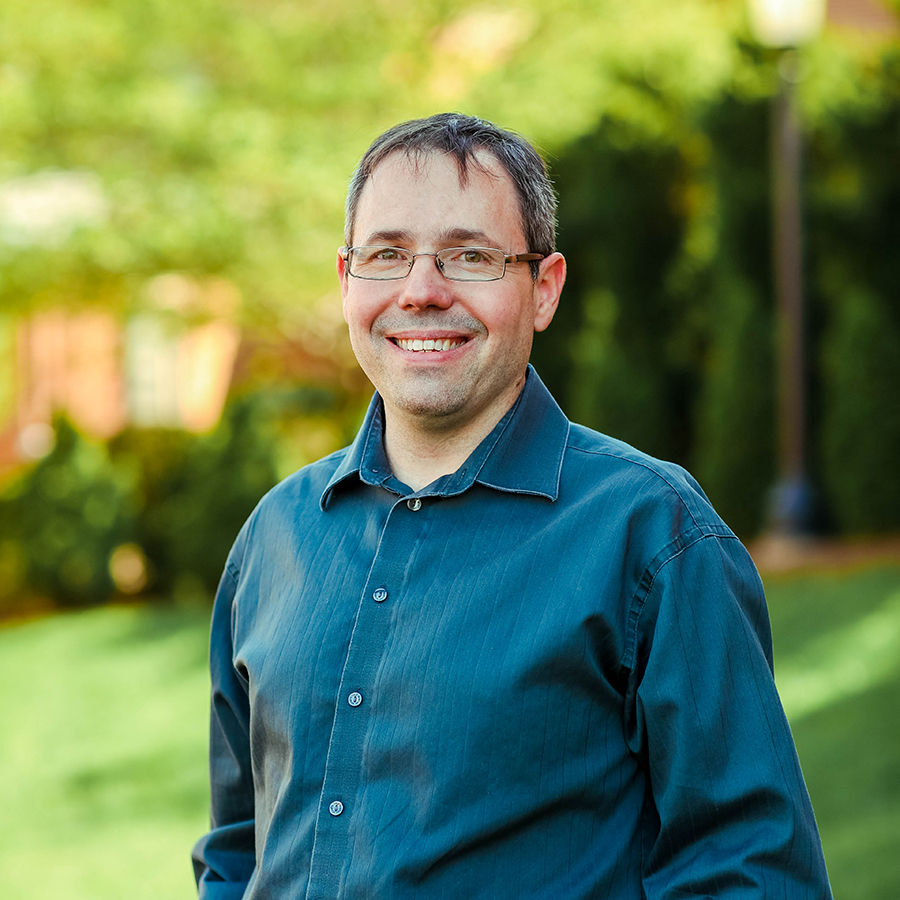 Dr. Christopher Lassiter
Professor
Director Undergrad Research
Department: Biology
Office: 406E Life Science
540-375-2460

lassiter@roanoke.edu

Degrees
B.S., Furman University, 1998
Ph.D., Duke University Program in Genetics and Genomics, 2005.
Homepage
roanoke.digication.com/chrislassiter/home
Research & Teaching Interests
Biology Courses: Principles of Biology, Biodiversity, Exploring the Unity of Life, Cell Biology, History of Life, Immunology, Advanced Cell Biology, Senior Seminar

Intellectual Inquiry (General Education) Courses: Scientists and Society, National Parks: Explore Your America, How to Build a Dinosaur
Recent Publications
Crowder CM, Lassiter CS, Gorelick DA. 2018. Nuclear Androgen Receptor Regulates Testes Organization and Oocyte Maturation in Zebrafish. Endocrinology. 159(2):980-993.

Pashay Ahi E, Walker BS, Lassiter CS, Jónsson ZO. 2016. Investigation of the effects of estrogen on skeletal gene expression during zebrafish larval head development. PeerJ 4:e1878.

Kramer AK, Vuthiganon J, Lassiter CS. 2016. Bis-GMA affects craniofacial development in zebrafish embryos (Danio rerio). Environ Toxicol Pharmacol. 43:159-165.

Cohen SP, LaChappelle AR, Walker BS, Lassiter CS. 2014. Modulation of Estrogen Causes Disruption of Craniofacial Chondrogenesis in Danio rerio. Aquat Toxicol. 152:113-120.
Allgood OE, Hamad A, Fox J, DeFrank A, Gilley R, Dawson F, Sykes B, Underwood TJ, Naylor RC, Briggs AA, Lassiter CS, Bell WE, Turner JE. 2013. Estrogen Prevents Cardiac and Vascular Failure in the 'Listless' Zebrafish (Danio rerio) Developmental Model. Gen Comp Endocrinol. 189:33-42.
Lassiter CS. 2010. An inexpensive method to simulate a monohybrid cross using wild-type zebrafish (Danio rerio). Bioscene: J Teach Col Biol. 36:20-25.
Smolinsky AN, Doughman JM, Kratzke L-T, Lassiter CS. 2010. Zebrafish (Danio rerio) androgen receptor: cDNA, genomic structure, and up-regulation by the fungicide vinclozolin. Comp Biochem Physiol C: Toxicol Pharmacol 151:161-166.
Lassiter CS, Linney E. 2007. Embryonic expression and steroid regulation of brain aromatase (cyp19b) in zebrafish (Danio rerio). Zebrafish 4:49-58.
Lassiter CS, Kelley B, Linney E. 2002. Genomic structure and expression of estrogen receptor beta a (ERbeta-a) in zebrafish (Danio rerio). Gene 299:141-151.
Abidi F, Jacquot S, Lassiter C, Trivier E, Hanauer A, Schwartz C. 1999. Novel mutations in rsk-2, the gene for Coffin-Lowry Syndrome (CLS). Eur J Hum Gen 7:20-26.