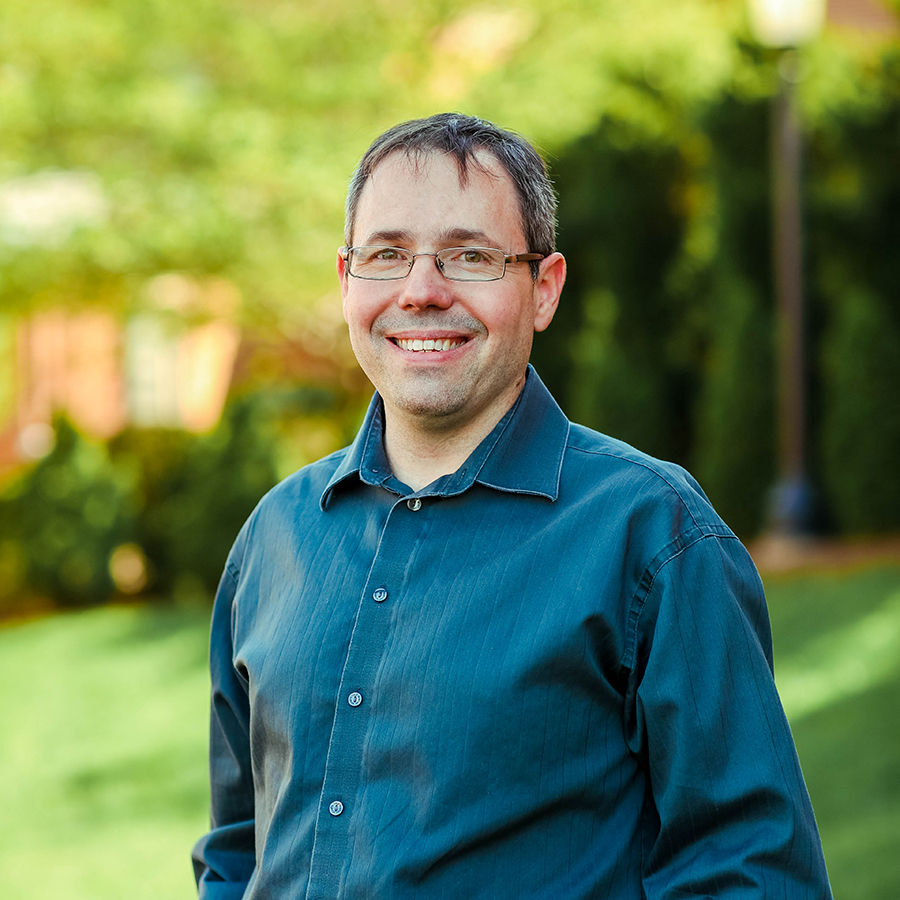 Dr. Christopher Lassiter
Professor
Director Undergrad Research
Department: Biology
Office: 406E Life Science
540-375-2460

lassiter@roanoke.edu

Courses
Degrees
B.S., Furman University, 1998
Ph.D., Duke University Program in Genetics and Genomics, 2005.
Homepage
roanoke.digication.com/chrislassiter/home
Research & Teaching Interests
Biology Courses:
Principles of Biology
Biodiversity
Exploring the Unity of Life
Cell Biology
History of Life
Immunology
Advanced Cell Biology
Developmental Biology
Senior Seminar
Intellectual Inquiry (General Education) Courses:
Scientists and Society
National Parks: Explore Your America
How to Build a Dinosaur
Research:
My research interests lie in the field of developmental biology. The mechanisms by which a single cell can give rise to a complex organism have always amazed me. Cells must differentiate and signal to each other, turning on vast networks of genes while coordinating growth, shape, and function. Much research has been done on small range signaling molecules during development. During my graduate work, I became interested in molecules that signal over longer ranges: hormones.
My work has focused on the estrogen signaling pathway. Estrogen is an important molecule in the developing embryo and in the adult vertebrate. This small molecule signals in many tissues of the body, including reproductive tissues, adipose, brain, bone, and heart. Estrogen signals by binding to estrogen receptors. My work has involved characterizing the estrogen receptors along with aromatase, the gene that codes for estrogen synthesis. The expression pattern of aromatase in the embryonic brain and its control by steroid hormones is well conserved among vertebrates. The pleiotropic effects of estrogen in the developing brain could affect neural architecture resulting in morphological and behavioral effects well into adulthood.
My lab also explores developmental toxicology of endocrine disrupting compounds that can affect vertebrate development by altering the estrogen and androgen signals in developing embryos. We study how these compounds affect a variety of organs including the developing jaw and heart. Recent projects in the lab are using CRISPR to create zebrafish models of human disease and investigating estrogenic pollution levels in the Roanoke River.
Recent Publications
Petty HJ, Barrett JE, Kosmowski EG, Amos DS, Ryan SM, Jones LD, Lassiter CS. 2022. Spironolactone affects cardiovascular and craniofacial development in zebrafish embryos (Danio rerio). Environ Toxicol Pharmacol. 92:103848. DOI: 10.1016/j.etap.2022.103848.
Walker BS, Kramer AG, Lassiter CS. 2018. Atrazine affects craniofacial chondrogenesis and axial skeleton mineralization in zebrafish (Danio rerio). Toxicol Ind Health. 34(5):329-338. DOI: 10.1177/0748233718760419.
Crowder CM, Lassiter CS, Gorelick DA. 2018. Nuclear Androgen Receptor Regulates Testes Organization and Oocyte Maturation in Zebrafish. Endocrinology. 159(2):980-993.

Pashay Ahi E, Walker BS, Lassiter CS, Jónsson ZO. 2016. Investigation of the effects of estrogen on skeletal gene expression during zebrafish larval head development. PeerJ 4:e1878.

Kramer AK, Vuthiganon J, Lassiter CS. 2016. Bis-GMA affects craniofacial development in zebrafish embryos (Danio rerio). Environ Toxicol Pharmacol. 43:159-165.

Cohen SP, LaChappelle AR, Walker BS, Lassiter CS. 2014. Modulation of Estrogen Causes Disruption of Craniofacial Chondrogenesis in Danio rerio. Aquat Toxicol. 152:113-120.
Allgood OE, Hamad A, Fox J, DeFrank A, Gilley R, Dawson F, Sykes B, Underwood TJ, Naylor RC, Briggs AA, Lassiter CS, Bell WE, Turner JE. 2013. Estrogen Prevents Cardiac and Vascular Failure in the 'Listless' Zebrafish (Danio rerio) Developmental Model. Gen Comp Endocrinol. 189:33-42.
Lassiter CS. 2010. An inexpensive method to simulate a monohybrid cross using wild-type zebrafish (Danio rerio). Bioscene: J Teach Col Biol. 36:20-25.
Smolinsky AN, Doughman JM, Kratzke L-T, Lassiter CS. 2010. Zebrafish (Danio rerio) androgen receptor: cDNA, genomic structure, and up-regulation by the fungicide vinclozolin. Comp Biochem Physiol C: Toxicol Pharmacol 151:161-166.
Lassiter CS, Linney E. 2007. Embryonic expression and steroid regulation of brain aromatase (cyp19b) in zebrafish (Danio rerio). Zebrafish 4:49-58.
Lassiter CS, Kelley B, Linney E. 2002. Genomic structure and expression of estrogen receptor beta a (ERbeta-a) in zebrafish (Danio rerio). Gene 299:141-151.
Abidi F, Jacquot S, Lassiter C, Trivier E, Hanauer A, Schwartz C. 1999. Novel mutations in rsk-2, the gene for Coffin-Lowry Syndrome (CLS). Eur J Hum Gen 7:20-26.