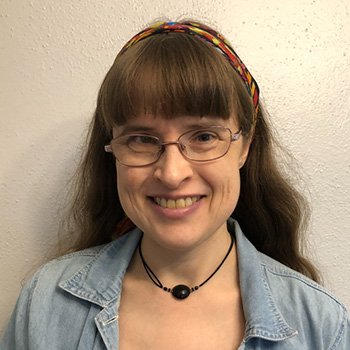 Dr. Teresa A. Milbrodt
Assistant Professor
Office: 221 Miller Hall
540-375-2381

milbrodt@roanoke.edu

Courses
Degrees
PhD in English (emphases in Creative Writing and Disability Studies), University of Missouri
MFA in Creative Writing (Fiction), Bowling Green State University
MA in American Culture Studies, Bowling Green State University
Homepage
Research & Teaching Interests
I write speculative and realistic fiction, and creative nonfiction. My scholarly interests include disability humor, disability and sexuality, and creative practive in disability communities.
Books
Literary Book Publications
Instances of Head-Switching. Shade Mountain Press, 2020.
Work Opportunities: Stories. Portage Press, 2018.
Larissa Takes Flight: Stories. Booth Books, 2014.
The Patron Saint of Unattractive People. Boxfire Press, 2013.
Bearded Women: Stories. ChiZine Publications. 2011.
Critical Book Publications
Sexy Like Us: Disability, Humor, and Sexuality. University Press of Mississippi, 2022.
Recent Publications
"Cyclops Notes" and "You May Mistake This for A Love Story." In Between Spaces: An Anthology of Disabled Writers, edited by Rebecca Burke, Stillhouse Press, 2022, pp. 97-103, 211-227.
"Honoratus" and "Matchmaker." The MacGuffin, vol. 38, no.1, 2022, pp. 56-7.
"Weighing Hearts." Gargoyle, issue 75, 2022, pp. 356-9.
"The Interpreter." NonBinary Review, issue 28, 2022, pp. 23-7.
"An Open Letter to Bakers." Orion's Belt, 2022, https://www.orions-belt.net/archives/an-open-letter-to-bakers
"Tea and Owls." Apparition Lit, issue 17, 2022, https://apparitionlit.com/tea-and-owls/
"The Queen." Flash Point Science Fiction, 11 Mar. 2022, https://flashpointsf.com/2022/03/11/the-queen/
"Dragons." Strange Horizons, 15 Nov. 2021, http://strangehorizons.com/fiction/dragons/
"Empathy." Andromeda Spaceways, vol. 17, no. 3, 2021, pp. 31-9.
"The Southern Part of the State." Nimrod, vol. 65, no. 1, 2021, pp. 166-77.
"Bat Kid." The Scores, no. 10, 2021, https://thescores.org.uk/teresa-milbrodt/
"Coffee With Mom" and "Scouting the Dragon." Wordgathering, vol. 15, no. 3, 2021, https://wordgathering.com/vol15/issue3/fiction/milbrodt/, https://wordgathering.com/vol15/issue3/fiction/milbrodt/
Available as a Media resource for the following topics
Disability humor and sexuality, creative writing, speculative fiction, crip lit (literature by people with disabilities)
Willing to speak to professional, social or civic groups on
Disability humor and sexuality, creative writing, speculative fiction, crip lit (literature by people with disabilities)