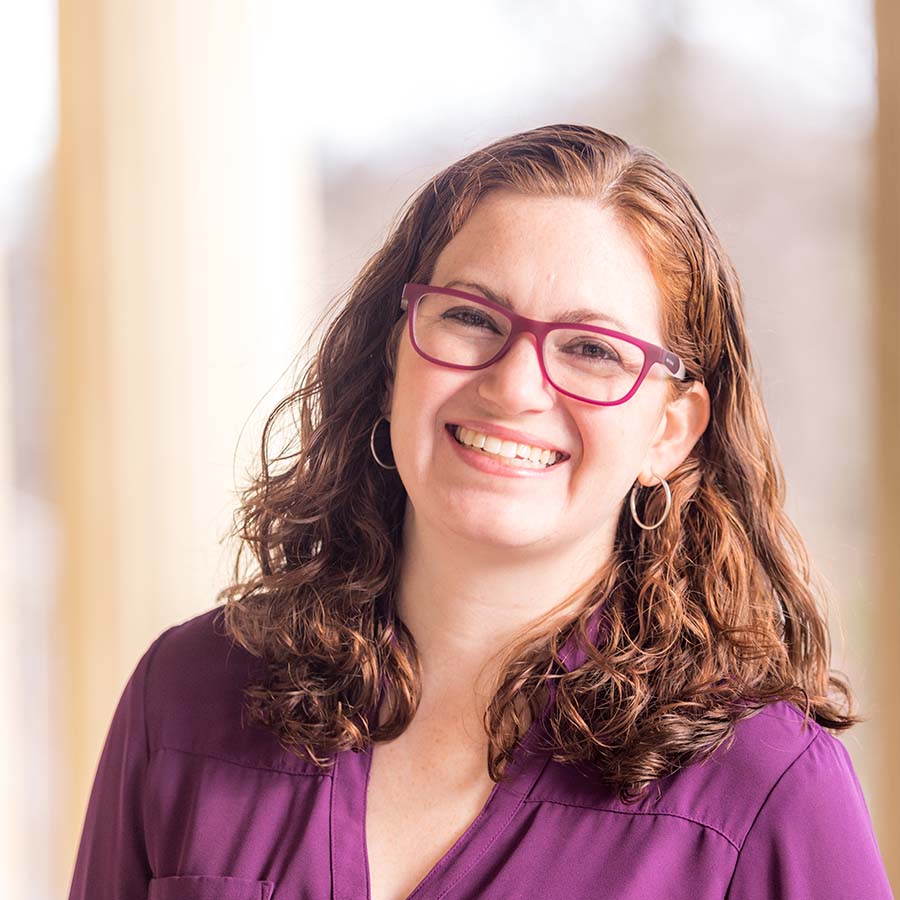 Dr. Carrie Murawski
Assistant Professor
Office: 115 Miller Hall
540-375-2380

murawski@roanoke.edu

Courses
Degrees
Ph.D. Texas A&M University
Communication Studies, Certificate in Women's and Gender Studies
B.A. University of South Florida
Majors: Communication, Sociology
Research & Teaching Interests
As a rhetorical critic, I primarily analyze media texts examining the intersections of gender, race, politics, and reproductive health. I am dedicated to critical scholarship and research to improve diversity and inclusion. Overall, my research agenda is rooted in social justice to promote a healthy democracy and encourage civic engagement.

In my teaching, I emphasize critical thinking, community building, and self-reflexivity as ways to create civic and democratic engagement with students both in and outside the classroom. I work to engage students as individuals and provide them with a rigorous academic curriculum, while nurturing their abilities to communicate clearly, reason critically, and develop the communication skills surrounding public participation. During my time in academia, I have been awarded several teaching honors at the program, college, and university-level. These honors were largely accomplished by intersecting my service and teaching, which demonstrates my devotion to involving students in civic engagement.



Extracurricular
Faculty Affiliate, Center for Studying Structures of Race
Director, Virginia Conference on Race Faculty Advisor, Lambda Pi Eta
Recent Publications
Murawski, C. M. (2021). "'Giving the breast for baby and country': Publicizing lactation for mothers in the military." Women & Language 44(2), 275-303.
Murawski, C. M. & Dubriwny, T. N. (2018) The Badass and the President: Scandal's Prime-Time Presidency. In K. V. Anderson (Ed.), Women, Feminism, and Pop Politics: From "Bitch" to "Badass" and Beyond. New York, NY: Peter Lang Publishing.

Singer, S. A., Bloom-Pojar, R., Dubriwny, T. N., Kinney, T., McFarlane, M. D., Murawski, C., Edwell, J., & Jensen, R. E. (2018) Reevaluating Our Commitments: Intersectionality, Interdisciplinarity, and the Future of Feminist Rhetoric. In J. Rice, C. Graham, and E. Detweiler (Eds.), Rhetoric's Change. http://intermezzo.enculturation.net/07-rsa-2016-proceedings.htm



Available as a Media resource for the following topics
Women's Rights and Feminist Movements
Racial Justice
Reproductive Health and Politics
Period Poverty
Popular Politics
Representation of Gender and Race in TV and Film
Political Rhetoric (race and gender in American politics)
Willing to speak to professional, social or civic groups on
Graduate School in Communication Studies/Rhetoric
Public Speaking
Political Engagement and Citizenship
Fact-Checking News Media
Diversity, Equity, and Inclusion
My Research Interests:

Women's Rights and Feminist Movements
Racial Justice
Reproductive Health and Politics
Popular Politics
Representation of Gender and Race in TV and Film
Political Rhetoric