Profile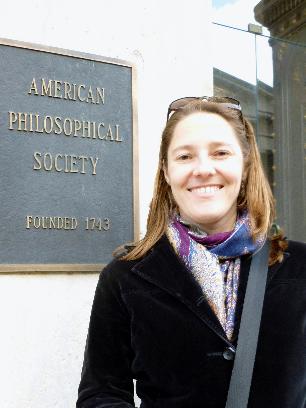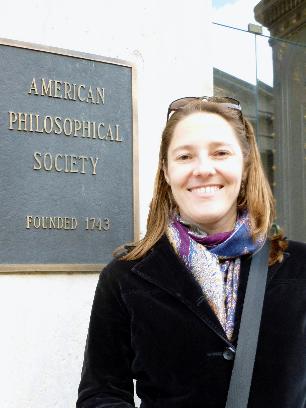 Dr. Monica L. Vilhauer
Associate Professor
Department: Religion/Philosophy
Office: 317 Francis T. West Hall
540-375-2458

vilhauer@roanoke.edu
Degrees
B.A. in Philosophy: Lewis and Clark College, Portland, OR
M.A. in Philosophy: The New School for Social Research, New York, NY
Ph.D. in Philosophy: The New School for Social Research, New York, NY
Research & Teaching Interests
Ethics
Social-Political Philosophy
Feminist Philosophy
Ancient Philosophy
19th and 20th Century Continental Philosophy
Existentialism
Hermeneutics
Scholarly Activities
Secretary for the North American Society for Philosophical Hermeneutics (2008-2014), Conference Host (2014)
Faculty Development Committee, Roanoke College (2009-2012)
Co-creator and co-coordinator of the Gender and Women's Studies Concentration, Roanoke College (2008-2012)
Recent Presentations:
"Beyond Dialogue: Gadamer, Play, and an Ethics of Life" Keynote Address at the "Ethics of Play" conference, Prague, Czech Republic, Fall 2014
"On the Question of Understanding Nature: The Two Voices of Gadamer" Presented at the Society for Phenomenology and Existential Philosophy Annual Meeting, New Orleans, Fall, 2014
"Overturning Soul-Body Dualism in Plato's Timaeus" Presented at the Ancient Philosophy Society Annual Meeting, Tampa, FL, Spring 2014
"Sickness and Rehabilitation in Plato's Timaeus: Retrieving the Value of the Body and Pursuing the Holistic Good Life" Presented at the Society for Ancient Greek Philosophy Annual Conference, Fordham University, NY, Fall 2013
"Socrates, the 'Love Doctor': Philosophic Therapy in Ancient Greece" Presented at "Love: A Conference on the Theological Virtues," Viterbo University, Spring 2013
"Socrates, the Love Doctor of Ancient Athens" Presented at the Collegium Phaenomenologicum Participants' Conference, Italy, Summer 2012
"The Game of Understanding: Dialogue Play and Opening to the Other" Keynote Address at the "Philosophy at Play" Conference, University of Gloucestershire, England, Spring 2011
"Broadening Gadamer's Ethics of Play" Presented at NASPH (North American Society for Philosophical Hermeneutics) Annual Meeting, Seattle, WA, Fall 2010
"Beyond the Fusion of Horizons: Gadamer's Notion of Understanding as Play" Presented at the Eastern APA (American Philosophical Association) main program, Philadelphia, PA, Winter 2008
"At Play With the Hermeneutic Other: Re-Focusing Gadamer's Conception of Understanding" Presented at SPEP (Society for Phenomenology and Existential Philosophy) main program, Pittsburgh, PA, Fall 2008
"Wittgensteinian Ethics?" Presented at the NAWS (North American Wittgenstein Society) annual meeting, Pacific APA, CA, Spring 2007
Extracurricular
Guitar Player in Folk Duo: "Erin and Monica"
Dog Whisperer (in training)
Books
Gadamer's Ethics of Play: Hermeneutics and the Other (Lexington, 2010)
Gadamer's Ethics of Play: Hermeneutics and the Other examines the ethical dimensions of understanding by focusing on Gadamer's concept of "play" as it is developed in his magnum opus Truth and Method. The book argues for the global relevance of play in Gadamer's philosophical hermeneutics, by revealing play as the key concept that depicts the process of all understanding — that is, the dynamic, dialogical, and interpretive process by which interlocutors come to grasp a common subject matter together. Through the lens of dialogue-play, the book focuses on "openness" towards one's dialogue partner, respect for his differing point of view, and a willingness to learn from him in conversation, as crucial ethical conditions of genuine understanding. The book aims to revive the ethical heart of philosophical hermeneutics and reveal the transforming power of the Other in Gadamer's hermeneutics.
While the book develops Gadamer's philosophical hermeneutics as an ethical philosophy, in the style of the older tradition of Aristotelian practical philosophy, it is finally critical of the extent to which Gadamer's hermeneutics can be used as a guide to practice. The book points out our need for guidance when we face our most prevalent obstacle to understanding — a "closedness" to the Other, or unwillingness to engage in conversation — but finds no guidance from Gadamer in scenarios where ethical conditions are lacking. Inspired by Gadamer's discussion of play, the book searches for types of human interaction that might have the power to open or re-open the play of dialogue between those who have become "closed" to each other, so that true understanding between them can be developed.
In Progress: Socrates the Love Doctor: Philosophic Therapy in Ancient Greece
Recent Publications
"Verbal and Non-verbal Forms of Play: Words and Bodies in the Process of Understanding" (Forthcoming chapter in Inheriting Gadamer: New Directions in Philosophical Hermeneutics, ed. Georgia Warnke, Edinburgh University Press, 2015).
"Gadamer and the Game of Understanding: Dialogue Play and Opening to the Other" (in The Philosophy of Play, eds. Ryal, Russell, Maclean, Routledge, 2013)
"Beyond the Fusion of Horizons: Gadamer's Notion of Understanding as Play" (in Philosophy Today, 53:4, Winter 2009)
"Socratic Dialogue and the Ethical Conditions of Knowledge" (in Skepsis, Vol. XVI i-ii, 2005)
Recent Awards
Faculty Research Year Award, Roanoke College 2014-2015
Exemplary Professional Achievement Award, Roanoke College 2013: http://roanoke.edu/News_and_Events/News_Archive/Faculty_Awards_2013.htm
Sabbatical, Roanoke College 2012-2013
Summer Research Award, Roanoke College 2012
Faculty Scholar Award, Roaonke College 2009-2012
Summer Research Award, Roanoke College 2010
Courses
PHIL 205: Moral Philosophy
PHIL 206: Social Philosophy
PHIL 251: Early Western Philosophy
PHIL 260: Special Topics: Nietzsche and Ethics: Unmasking Good and Evil
PHIL 260: Special Topics: Philosophy and Feminism
PHIL 260: Special Topics: Existentialism and Feminism
PHIL 266: Contemporary French Philosophy
PHIL 301: Plato
PHIL 330: Wittgenstein
PHIL 340: Topics in Contemporary European Philosophy: Hermeneutics
INQ 120: Living an Examined Life: In Socrates' Footsteps (core curriculum)
INQ 277/PHIL 277: Relating to Nature: Philosophy, Literature, and Immersion (May term, intensive learning course)
GNDR 150: Intro to Gender and Women's Studies
Some words about teaching:
Yep, my classes are hard. It's true. I have high expectations for myself and for my students when it comes to preparation, participation in discussion, and thoughtful, polished writing. But, I believe in having fun in the classroom while we are working hard together. Philosophy is enlightening, transformative, mind-bending, confusing, aggravating, and funny! I enjoy experiencing all philosophy has to offer with my students in a classroom community.
In my classes we focus on learning how to carefully read primary source texts in the history of philosophy. Yep, they are tough -- but we're going to be philosophic rockstars once we learn how to do it! In a discussion style classroom, we struggle to make sense of these texts' meaning, think critically about their truth, and consider how we might creatively apply worthwhile insights to our own lives.
Learning how to write clear explanations and critical evaluations of the difficult texts we read is a top priority in my classes. I have developed a guide to help students learn how to structure a philosophical paper, which I use in all of my classes. Learning to craft polished, well-structured, clear writing is an important skill for anyone, regardless of their future career path. We hone this craft intensively in my courses. Yep, it's a lot of work. But it will result in a rare talent that you, and others, will be thankful you took the time to develop. I invite you to challenge yourself and join me in the classroom!